Therapy Services

We specialize in Pediatric Therapies which include:
Occupational Therapy
Speech and Language Therapy
Sensory Learning Program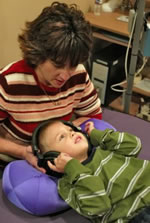 Sensory Learning
The Sensory Learning program has been offered to a variety of our clients. Sensory Learning is an innovative multi-sensory approach to developmental learning that stimulates the vestibular, visual, and auditory systems simultaneously in order to improve sensory function.
We continue to be Ohio's #1 provider for this service. In most cases, a portion of Sensory Learning is covered by insurance. In addition, we have found several funding sources to help our clients. Please read our Testimonials to see how Sensory Learning has been greatly benefitial!
Occupational Therapy
The Occupational Therapy staff at Therapy Learning Center offers evaluation, consultation, and treatment for a variety of life skills to help individuals achieve independence in all of their daily activities. Therapy is designed to maintain or restore daily life tasks and minimize the effects of disablility through adaptation. Some of the skills worked on are: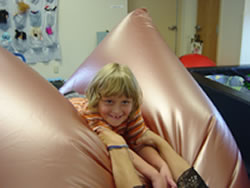 Fine Motor Skills
Feeding/Oral Motor Skills
Visual Perceptual Skills
Cognitive Skills
Self Help Skills
Visual Motor/Handwriting Skills
Sensory Motor Skills
Positioning and Adaptive Equipment
Speech and Language Therapy
Our Speech and Language Therapy staff provides diagnosis, treatment and consultation for children with speech and/or language disorders. A speech disorder refers to a problem with the actual production of sounds, whereas a language disorder refers to a difficulty understanding or putting words together to communicate ideas. Some of the problem areas they work with are:
Expressive and Receptive Language
Written Language
Apraxia
Oral Motor Skills
Auditory Processing
Pragmatics
Social Skills
Articulation